Organizer:
CCPIT Sub-Council of Chemical Industry
Supporters:
China Petroleum and Chemical Industry Federation
Institute of Agricultural Resources and Regional
Planning of CAAS
Institute of Environment & Sustainable Development
in Agriculture of CAASS
China Society of Plant Nutrition and Fertilizer
Science(CSPNF)
Overseas Honorary Supporters:
Irrigation Association (IA)
the European Irrigation Association (EIA)
Irrigation Association of Australia (IRRIGATION AUSTRALIA)
The Arab Countries Water Utilities Association (ACWUA)
International Fertilizer Industry Association (IFA)
The Arab Fertilizer Industry Association (AFA)
The Fertilizer Association of India (FAI)
Introduction
Along with the gradually technology promotion for Integrated management of water and fertilizer,
fertigation is more and more popular in China, As the world's largest fertilizer producer and consumer,
China's agriculture Fertilizer utilization rate is still low. At the same time, Chinese agricultural water
resources utilization rate is also fifty percent lower than developed Countries; And the world best
way to improve the water utilization is fertigation.

Fertigation technology is the modern agricultural technology to combine irrigation with water
soluable Fertilizer supply. Through the precise control of irrigation water, fertilizer application amount
and when for irrigation fertilization, Not only can it achieve the intensive utilization of water resources,
it can also be achieved to maximize crop yields and quality optimization, promote the ecological
environment protection and construction, finally realizes the purpose to enhance the agricultural
products competitiveness, to increase farmers' income.

The file "Guidance for Fertigation technology" was printed by China Ministry of Agriculture on
March 4, 2013. The file points out that in accordance with requirements to transform the mode
of agricultural development and to construct ecological civilization, it is necessary to promote localization
of fertigation technology, small-scale equipments and technology industrialization. By 2015, fertigation
technology will be applied in more than 5.3 million hectares, the new promotion area of more than
3.3 million hectares, realize water saving more than 50%, saving fertilizer 30%, food crops to increase
20%. Subsidies for agricultural machinery and implement policy issued in 2011, the provinces have also
developed a subsidy policy for irrigation and fertilizing machine, it not only inspired farmers great
enthusiasm for purchasing the irrigation and fertilizer equipment, but also promote the healthy
development of the irrigation industry.

CCPIT Sub-Council of Chemical Industry has held the China International Agrochemical and Crop
Protection Exhibition(CAC)and China International Fertilizer Show(FSHOW) for fourteen years,
we had accumulated a lot of customer resources at domestic and abroad, relying on large
resources of CAC and FSHOW, rich experience in exhibition organization, we will launched the
China international Irrigation Show to full display agricultural and horticultural irrigation technology
and equipment, promoting fertigation application, to strengthen domestic and international
technology exchange and cooperation.

We believe that fertigation will lead to the big change in planting technology, fertigation application
development is being in spring. China international irrigation Show(IRRISHOW) will bring opportunity
and development for agriculture industry.
China International Fertilizer Show (FSHOW) is a sub-branch of China International Agrochemical &
Crop Protection Exhibition (CAC) starting from 2010. In 2016, the whole exhibiting space of CAC
will reach 60,000 sqm with 1,100 exhibitors from more than 20 countries & regions. It will be an
annual feast for global agrochemical industry.
View of Last Show in 2016
The 17th China International Agrochemical & Crop Protection Exhibition (CAC) and the 7th China
International Fertilizer Show (FSHOW) was successfully held on 9-11th March, 2016 in Shanghai
New International Expo Center. The total exhibiting space was 60,000 sqm with 1100 exhibitors
from more than 20 countries including Brazil, Russia, USA, France, South Africa and India. The
number of exhibitors has 16% increase than last year. The total exhibiting space of fertilizer zone
was 24,000 sqm with 345 exhibitors. Besides exhibitors, there were 30,000 agrochemical experts,
researchers, purchasers, dealers from around 120 countries & regions visiting the show. Both the
amounts of exhibitors and visitors reached the historic highest.
During the show, 2016China International New-type Fertilizer Conference, 2016Fertilizer New
Products & New Technology Release Conference, FSHOW Irrigation and Fertilizer Conference
were held attracting 500 fertilizer experts, scholars and entrepreneurs.
FSHOW and IRRISHOW has become the market indicator and a professional
communication platform of fertilizer. In 2016, IRRISHOW will keep on promoting the fertilizer and
irrigation trade and cooperation. We sincerely invite you to join this annual fertilizer feast!
the photo gallery of past show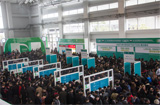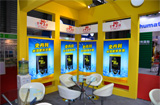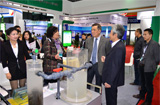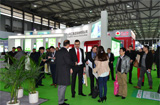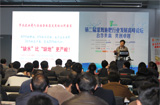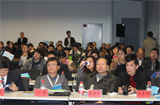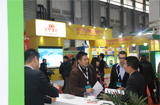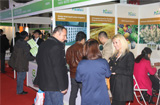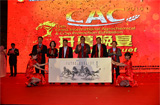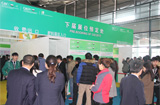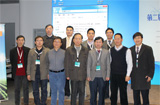 the Photo gallery of 2013 show