China International Irrigation and Greenhouse Exhibition (IRRISHOW) will be held during CAC exhibition, the exhibit products covers irrigation equipment, irrigation system, detecting instrument, greenhouse, environment monitoring etc. Meanwhile, IRRISHOW combines with Fertilizer, Pesticide, Seed, Equipment and Agri-Aviation pavilions to build an one-stop purchasing and exchanging platform of the whole industry chain. IRRISHOW will share professional visitor resources that CAC has accumulated for 23 years.

DAYU IRRIGATION GROUP, NINGBO IRRIPLAST, FUZHOU ARTHAS FLUID EQUIPMENT, SUZHOU SEAPEAK, SHANDONG SHUNKAILONG, HEBEI PLENTIRAIN, ANC TECHNOLOGY, BEIJING TSC SMART TECHNOLOGY, QUANZHOU MINJIE PLASTIC, CHANGZHOU HENGKANG PLASTIC, SHANGHAI TINGCAN, STRING-AI TECHNOLOGY, LANXI BISTAR LIGHTING and other industrial enterprises participated in IRRISHOW 2021.


While the offline exhibition was held, the online platform broke the space barrier, allowing overseas industry people blocked by international travel to share the industry event. Through the online and offline integration mode, it extends the exhibition service chain and brings more business opportunities and value to exhibitors and visitors.


1,775 companies actively participated in the online exhibition, exhibiting 13,254 products at the five sectors of Pesticide, Fertilizer, Equipment, Seed, Agri-Aviation & Irrigation. 62,777 industry professionals visited the platform, achieving a total of 500,000 page views, 7,426 online appointments, 7,096 online chats, 4,492 product inquiries.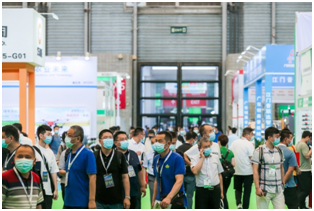 Comments:

"Through the three-day display, we have contacted many targeted customers and achieved very good results"- Mr. Hu Wentian, sales manager of NINGBO IRRIPLAST IRRIGATION SYSTEMS CO., LTD.

"It's the first time for our company to participate in the IRRISHOW. Even under the epidemic situation, we still received purchasers from Iran. At the same time, our stand also attracted many new and old customers from Jiangsu, Shandong and Henan."- Xu Tao, sales manager of FUZHOU ARTHAS FLUID EQUIPMENT TECHNOLOGY CO., LTD.

"This event has been very successful under the adverse situation of the epidemic."- Mr. Robin from Singapore.

"We really want to visit this event in Shanghai. We can only participate in the forum through online broadcasting this year. Thank the organizers for their considerate service."- Mrs Isabel Wang from the Netherlands.